Biography:
Gordon Ekvall Tracie
22 March 1920 to 12 December 1988
Gordon Ekvall Tracie was born in Seattle, Washington, of Scottish, Irish and Swedish heritage. He attended University Heights School in Seattle, Washington, during his early years; and later attended and graduated from Bainbridge High School in Winslow, Washington. During his high school years, Tracie worked as a jack-of-all-trades on a country newspaper.
From 1942 to 1945, Tracie served in the United States Coast Guard, based in both Port Angeles, Washington, and Ketchikan, Alaska. The skills that he had acquired on the country newspaper were utilized in his various editorial assignments on Coast Guard newspapers.
Following his service, Tracie traveled and studied extensively in Scandinavia in the late 1940's and early 1950's. While there, he attended the universities in Oslo and Stockholm, and augmented his academic studies with research in Scandinavian folklore with particular emphasis on traditional music and dance. It was during this time that his latent interest in Scandinavian dance, music and culture began to blossom, and he returned to Seattle with a desire to kindle a local interest in all things Scandinavian.
The informal group of folkdancers that Tracie started in 1948 in Thompson Hall on the University of Washington campus soon moved to the YMCA's Eagleson Hall and became Skandia Folkdance Club (now Skandia Folkdance Society).
On a second trip abroad, Tracie took the opportunity to spend a year at Sweden's Institute for Folklife Research. He later organized "Nordiska Folkdancers," the first of several exhibition teams associated with Skandia.
During subsequent visits to Scandinavian countries, Tracie arranged recording sessions, and acquired rights to authentic Scandinavian dance music for pressing and release in the United States. He is the producer of many commercial recordings of Nordic folklore music.
In addition to writing the booklet, "The Folk Music of Sweden" commissioned by the Swedish Broadcasting Corporation in 1961, Tracie produced innumerable short essays and discourses on Scandinavian music, history and culture in preparation for dance classes and workshops, many conducted at various locations throughout the United States.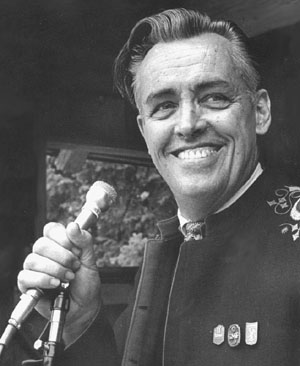 In 1962, Tracie was awarded the "Order of Vasa" for cultural endeavor by King Gustaf VI of Sweden. In 1978, he received the "Gold Medal of Merit" from King Carl Gustaf XVI of Sweden.
Because of his extensive knowledge of Scandinavian folklore, and fluency and familiarity with several Scandinavian languages, Tracie was retained as "Folklore Consultant" from 1973 to 1976 by the Smithsonian Institution for its Folklife Festival.
During his more than four decades of fascination with Scandinavian folk culture, Tracie guided tours through the Scandinavian countries, gathered an extensive collection of field recordings of authentic Scandinavian music, began and encouraged numerous local fiddlers and musical groups, and inspired thousands of people in his year-after-year endeavor of conducting classes of authentic Scandinavian folk dancing.
John Pursell
Seattle, Washington 1988
---
Copyright © 1997 Skandia Music Foundation
Gordon Ekvall Tracie biography
You may freely distribute this biography provided you agree to retain this copyright notice and mention that this biography is available on the web at www.folkdancing.com