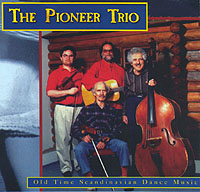 The Pioneer Trio
Gordon Tracie loved to quote a Swedish saying, "If you meet three people walking down the road in Rättvik (a village in the Swedish province of Dalarna) at least four of them will be fiddlers." This could be restated for the Pioneer Trio to the effect that "in the Pioneer Trio there are at least four musicians."
The original Pioneer Trio consisted of three musicians, as one would expect. They were Gordon Ekvall Tracie, founder of Seattle's Skandia Folkdance Society, on guitar; "Fiddlin' John" Sears on fiddle; and Art Nation on Viola. They first got together on March 17, 1956, on a trip to Holden Village, to play for a group of folkdancers. Holden Village is reachable only by a half day's boat trip up Lake Chelan in eastern Washington, and they jammed all the way up and back. They began playing for Skandia dance events, then others as well. They provided the only live music at Skandia for a number of years. Dancers delighted in pivoting and dancing around the floor to their traditional old time dance tunes such as schottisches, polkas, hambos and waltzes. Asked what type affairs they played, Fiddlin' John always replied, "We play for wakes, weddings, funerals, back-yard barbeques, bacchanalian revries, witch burnings and quite a few fancy balls."
In 1982 the National Endowment for the Arts and the National Council for Traditional Arts sent the Trio on a special tour of the mid-west areas that were settled by Swedes in earlier times. Along with a couple of dancers and a singer, they put on travelling musical "immigrant" shows similar to the old vaudeville days.
The original three played together until Gordon's death in December of 1988. They occasionally invited an extra person to sit in with them, sometimes calling themselves Pioneer Trio and Friends, or Pioneer Trio and Son when Phil Nation, then a teenager, joind them on fiddle for occasional gigs. After Gordon's death John and Art continued playing, inviting different guests to join then at times. Bjarne Jacobsen, a Norwegian guitar player, became a regular member.
The Pioneer Trio celebrated their fortieth year as a group in 1996. In January 1997, one month before John's eightieth birthday, they recorded this CD for posterity. The Skandia Music Foundation is proud to present the Pioneer Trio. Push back the chairs, roll back the rug and have one heck of a good time dancing.
---
Tracks

| | |
| --- | --- |
| 1 | Kivikspolka (polka, snoa or trava) Gustav Egerstam, Swedish |
| | John calls this the "Hollerin' Polka." You'll hear why. |
| 2 | Sparf Fars Polska, Trad. Swedish |
| 3 | Gammelvals fra Midtjylland (waltz) Christian Telling, Danish |
| 4 | Jämtgubben (Polka) Gnesta Kalle and Solve Strand, Swedish |
| 5 | Skinnbraka med Lucku (hambo) Swedish |
| 6 | En afton vid Mjörn (waltz) Karl Severin, Swedish |
| | A schmaltz type waltz which the trio is known for, complete with John's typical "one more time" request. Bird whistle played by Trella Hastings. |
| 7 | Trasten (schottish) Eric Öst, Swedish |
| 8 | Gotlands Bröllopsmarsch (wedding march) Trad., Swedish |
| | The trio has played this one at many weddings over the years. |
| 9 | Polkan Går (polka) Trad., Swedish |
| | John plays his "tour-de-force" part on this one. |
| 10 | På Spelmansstämma (hambopolska) Blånn-Olle, Swedish |
| 11 | Meistervalsen (waltz) Per Bolstad, Norwegian |
| | This tune was popularized by Sigbjørn Bernhoft Osa on the hardanger fiddle. The Trio fiddlers have their G strings tuned up to A in typical "Hardanger" tuning. |
| 12 | Skæve Thorvald (hopsa) Trad., Danish |
| 13 | Den Frilynde (reinlender) H. Gjeitvik, Norwegian |
| 14 | Lif-Antes Polska, Trad., Swedish |
| | Violin duet with John and Phil. A baroque style tune written as a polonaise in Germany in the 1700's. It became the favorite tune of the blind Hälasinland fiddler, Lif-Ante. |
| 15 | Turné Luft (polka) Gnesta Kalle and Eric Öst, Swedish |
| 16 | Hälsa dem därhemma (waltz) Elith Worsing, Danish |
| | A well known, nostalgic immigrant song which became popular in Sweden. |
| 17 | Tracie's Two Step (Boston or Military Two Step) Gordon Tracie, American |
| | Gordon used to bang this one out on the piano at the old Skandia reunion parties at Dick and Barbara Sacksteder's house. Siren, train whistle, Bombay taxi horn and duck call played by Trella Hastings, David Lamb and Art Nation. |
| 18 | Fjällbruden (wedding waltz) Arthur Hedström, Swedish |
| | The original Pioneer Trio: Gordon, John and Art. They played this tune at many weddings. The recording was made at the Northwest Folklife Festival in May 1977. |
---
Fiddlin' John Sears, fiddle
Phil Nation, fiddle
Art Nation, viola and acoustic string bass
Bjarne Jacobsen, 12-string guitar
Producers: David Lamb and Trella Hastings
Sound Engineer and Mixing: Phil Williams
Cover Photo: Art Hare
Production Consultant: Vivian Williams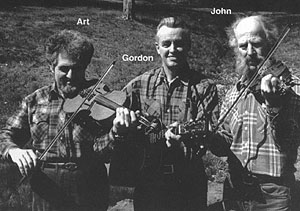 Original Pioneer Trio, 1982
Art Nation, Gordon Tracie and Fiddlin' John Sears
---
The Pioneer Trio CD is available on the internet at www.folkdancing.com