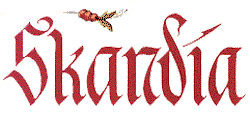 Dance Descriptions
Foreward to Dance Directions
Liner Notes
This Viking Skandia CD contains 28 traditional dances on 35 tracks. Some dances span multiple tracks to give folkdancers who lead or teach from recorded music additional dance options.
Set in an instrumental combination of classical and folk styles, as such, all agree that these renditions are not exactly "folk". They are, however, appropriate. True folkdances, throughout history, make social trips one way or the other, between the rich classes, who danced to hired groups of trained classical musicians, and the poorer classes, who danced often to their own voices or the music of a single self taught musician.
This recording developed from a friendship that began when Gunnar Hahn; an outstanding Swedish pianist, conductor and composer; was to play a concert at the University of Washington in 1950. Gordon Tracie arranged to have Skandia Folkdancers perform as part of the concert. After the performance Gordon and Gunnar talked far into the night. A lasting bond was formed that led to new opportunities for both and this CD, one of the many recordings they made together.
These recordings were made by classical and folk musicians in sessions in 1961 and 1985 in Stockholm. To make these recordings, rumor has, musicians overcame substantial style differences. Snapshots of the sessions show musicians in concert tuxedos rehearsing with others whose daily dress had been out of fashion in the Swedish capital for the better part of a century. Deeply rooted similarities in classical and folk melodies were rediscovered as musicians who followed only a written score learned ways of trading tune varients with those who learned only by ear.
---
Copyright © 1997 Skandia Music Foundation
Dance Descriptions


You may freely distribute this page provided you agree to retain this copyright notice and mention that recordings for these dances are on the Viking Skandia CD, available from www.folkdancing.com.